C'est la "Golden Week" au Japon (ce qui signifie qu'il n'y a pas de scan de chapitre cette semaine ! 🙁 ), mais pour nous consoler, le site Nippon-Yasan nous propose une promo à couper le souffle pendant l'événement sur plusieurs figurines One Piece (mais pas seulement) issues des gammes Portrait of Pirates, Variable Action Heroes et Archives Collection !
J'espère que vous pourrez trouver votre bonheur parmi ces figurines, mais n'hésitez pas trop : elles partent très très vite !
D'ailleurs, le taux de change yen/euro nous est très favorable en ce moment : 1€ = 121 yen; donc 100€ = 12,100 yen.
A titre de comparaison, il se situait entre 115 et 118 yen durant tout le mois d'Avril et est quasiment à son plus haut de 2017 (maximum de 123 yen le 6 Janvier)  !
Liste des figurines One Piece en promo
Portrait of Pirates
Variable Action Heroes
Figuarts Zero
Archive Collection
Pour voir la liste de toutes les figurines en promo : cliquez-ici
---
Je l'avoue, de mon côté, j'ai pris la Bartolomeo pour le petit prix de 80€ FDP compris ! Quand on sait qu'elle était trouvable à pas moins de 200€ avec la réédition, et au minimum de 130€ FDP compris sans cette promo…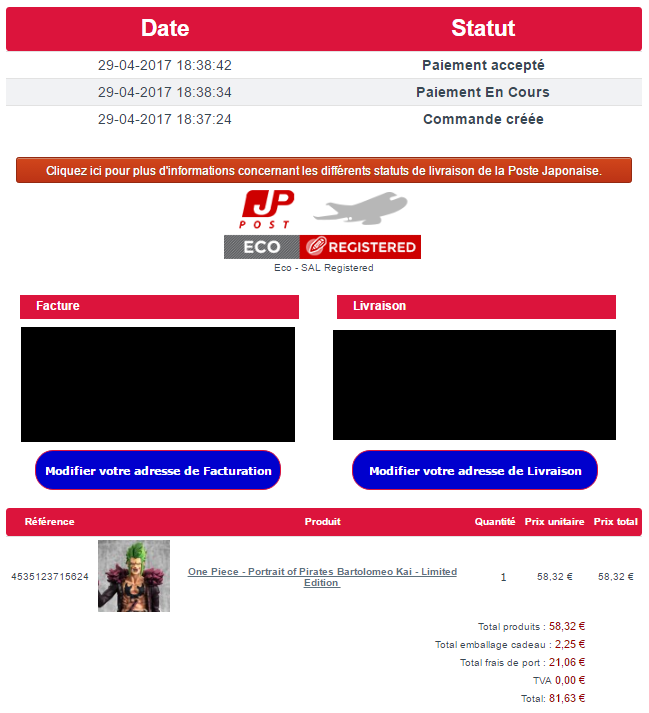 Un grand merci à Wolfy pour le partage du bon plan ! 🙂
De votre côté, vous en prenez une ?